Merlin's 1st Annual Artisan Fair 2015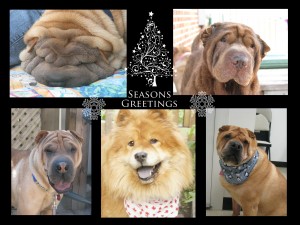 Merlin's First Annual Artisan Fair
Saturday, November 28 from 10 a.m. to 4 p.m.
Terra Nova, 298 Brookhaven, Dorval
You are invited to attend the first annual artisans fair in aid of Merlin's Hope Rescue.  These hand picked artisans offer you the very best quality and variety of merchandise.  All monies raised to aid the rescue  of distressed Chows & Shar-Pei.
An online pre-sale of select merchandise will take place November 19 to 25th through ThinkArtisan's Merlin's Hope Collection.  Purchases will ship starting November 29th. Artisan information and  tracking number sent to you at time of shipment.
Merlin's Hope foire artisanale et de pré-vente
Samedi, 28 Novembre, 2015  10 heures-16 heures
Terra Nova, 298 Brookhaven, Dorval
Vous êtes invités à participer aux première Foire Artisanale annuel pour aider La Refuge Merlin's Hope. Ces artisans on été choisie particulièrement  pour l'offrir la meilleure qualité et la variété de la merchandise.   Tous les fonds recueillis sont pour aider les chiens Chow Chow & Shar-Pei.
Une pré-vente en ligne de marchandise sélectionnée aura lieu entre le 19 – 25 Novembre au travers la site internet Think Artisan, Merlin's Hope Collection. Les achats seront expédiés à partir du 29 Novembre. Informations du Artisan et le numéro de suivi serait envoyé à vous au moment de l'expédition.