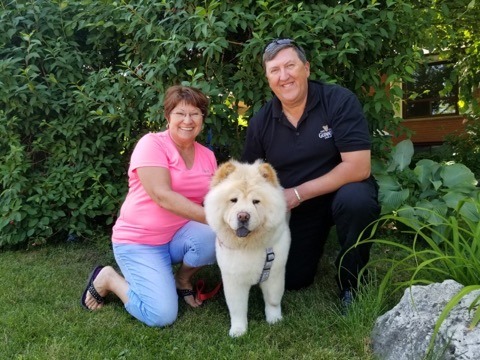 Painful beginning to a Happy Ending…..Roo's story
*Sharing may help bring Awareness*
Sweltering hot temperatures do not discourage people in Kuwait to keep their pets cool indoors. Often it's the complete opposite. In Roo's case, she was tied to a leash on the hot roof top of a three story building. Thunder boomed and spooked her, she panicked and ran. Trouble was, there was no where to run except off the edge of the building. There she hung by her neck three stories high. Dangling, scared…helpless Eventually her collar broke. Her fall crushed her pelvis and several other bones but determined, she dragged herself to shelter. A by passer found her and called for help. KAREQ8 came and brought her to the emergency vet where she underwent the first of several surgeries. Three surgeries to put her back together….but she continued to cry in pain. A couple months later, the crying didn't stop so two more surgeries followed.
Our Rescue vet, Dr. Sagu in Oakville, looked at her X-ray and said the surgeon who repaired her did a remarkable job. She has recovered with no limp, or awkward gate…he was extreamly impressed.
Eventually Roo's fur grew back, covering her long scar and reminder of the awful past. Roo stayed in foster care for the next year where she healed and was loved to bits until it was time to find a safe happy forever home.
A lovely couple were missing their chow after she crossed the Rainbow bridge. Their home felt empty without the pitter patter of paws. They patiently waited for the right rescue to come in, and once again fill their home with doggy love. Roo was just the girl to do that. It was an exciting introduction full of wagging tails and smiles. Not only does Lou Lou Roo have her own forever family, but also a whole kingdom-home to guard and meander in.
She will be spoiled with love – care and attention. Best of all, her family will keep her safe and always protect her from the Thunder Monsters! Congratulat ions Lou Lou Roo, you came to this beautiful country to find a better life, and you did! Details and photos of Roo's story are on Instagram at Saving Roo KAREQ8 Special thanks to Maha and her team for saving her and to Roos loving foster family for still caring. Congratulat ions to Lou Lou Roos new family, you have a special little girl well worth the wait!