Merlin's 2nd Annual Artisan Fair 2016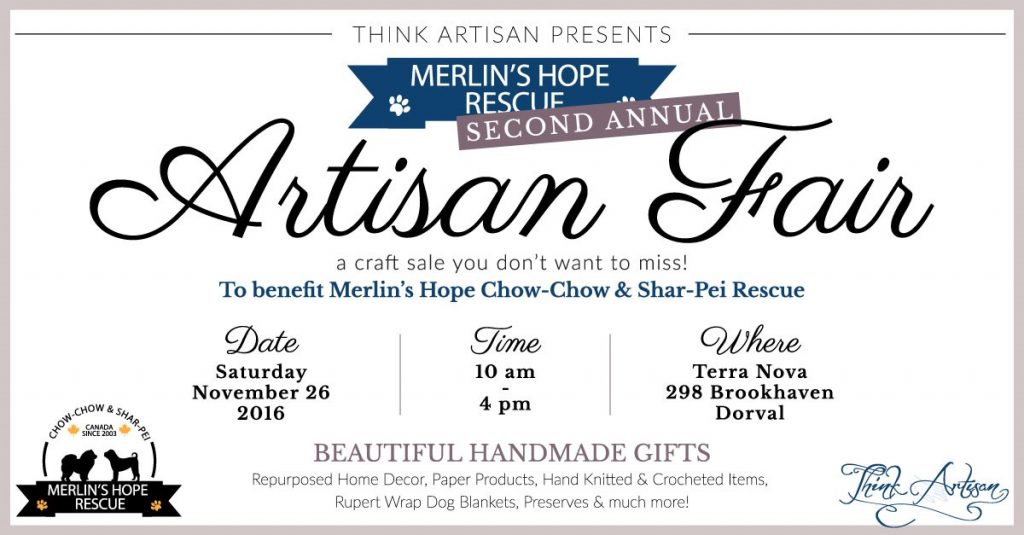 You are invited to attend our Second Artisan Fair in aid of Merlin's Hope Rescue.
These hand-picked artisans offer you the very best quality and variety of merchandise. All monies raised will go directly to the rescue – to provide vetting and rehabilitation of Chows & Shar-Pei in need.
Handmade items such as dog apparel and treats, knitting and crochet, stuffed animals, jewelry, stained glass, soaps & body products, Rupert wraps, preserves, paper products and repurposed home décor are just a few of the things that will be for sale.
Be sure to check out our online pre-sale if you are unable to attend in person.
Select merchandise will be available from November 18 to 23, 2016 in a special collection offered by ThinkArtisan.ca, purchases will be mailed to you the week following the fair.
We will have a small lunchroom, so come join us for coffee and a bite to eat 🍴🍴🍴
Please join us in making this event s BIG Success
please visit us on facebook at https://www.facebook.com/MerlinsHopeRescue
Nous avons sélectionné les artisans tant pour la qualité que pour la variété des produits qu'ils offrent. Les fonds amassés seront versés à Merlin's Hope afin de leur permettre de venir en aide à des chiens de races Shar-Pei et Chow Chow dans le cadre de leur programme de rescousse en leur offrant des soins vétérinaires ainsi que des outils de réhabilitation.
Une panoplie d'items confectionnés à la main sera disponible lors de la vente : des items pour vos animaux de companie tels les biscuits, des produits tricotés et crochetés, des animaux en pluche, des bijoux, des vitraux, des savons et autres produits de bain, les doudous de chien Rupert Wraps, des conserves, des produits de papier et des items de décor faits de produits recyclés pour en nommer que quelques un.
Assurez-vous de participer à la pré-vente en ligne si vous ne pouvez pas y être en personne. Un certain nombre d'items sera disponible entre le 18 novembre et le 23 novembre 2016 par collection spéciale via ThinkArtisan.ca. Vos achats seront postés la semaine suivant la foire.
Nous aurons aussi une petite salle à dîner donc venez nous joindre pour un café et une petite bouchée 🍴🍴🍴
Svp venez nous visiter et aidez-nous à en faire un énorme succès.
s'il vous plaît visitez-nous sur Facebook https://www.facebook.com/MerlinsHopeRescue