Loki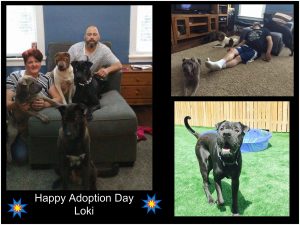 Lokie lived the first 8 month of his life in a cone with his skin constantly itchy, raw and bleeding, even his eyes were sore.. Frustrated with ongoing skin issues, vet bills and a very tight budget, his owners surrendered him to rescue. Right away he went to the vet for an assessment and medication was prescribed,medicated bath for his stinky-yeasty body, and his diet was changed to grain free.
We scheduled him for for entropian surgery and a neuter. Within a few days this boy was feeling so much better, and was able to finally start enjoying life. This giant puppy (70 lbs at 9 month old) was ready to start his life his new family. Unfortunately his first new family weren't quite ready for him. He was returned, but when one door closes, another one opens. Loki met his new "foster family" where he would stay until he got adopted. Lokie made sure he wasn't going anywhere else so he bonded to the the husband since they were outnumbered by all the girls in the house. It worked! Lokie's new Dad was happy to have a "playmate" and his foster Mom, well…she secretly loved him before she even met him.
Not only did Lokie find his forever home but one with shar pei experience including THREE pei sisters.
Happy adoption day Kingston !!