SunChow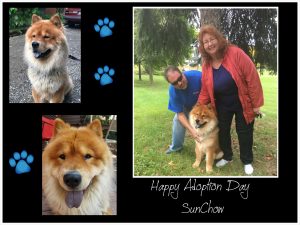 This bright beautiful boy was picked up by Animal Services in the US…looking very much dead. He was emaciated, completely dehydrated and too weak to move. He made a great recovered however he wasn't out of danger since the shelter and local rescues were full. Merlin's Hope was his last chance.
We arranged transport and scheduled his Vet visit right away. He was neutered, treated for an ear infection and put on a weight gain program. He was doing well, so in light of surviving everything especially the extreme weather, he earned the name Sunchow. As it turned out, Sunchow had a sunny disposition, and blossomed into a giant handsome puppy-like boy. His new family would definitely need to handle his energy and respect his boundaries while teaching him theirs. A lovely couple offered all that and more. Before adoption day, a warm welcome included a puppy-shower of toys and other gifts from co-workers. Everyone was excited for the new arrival of their gorgeous fur-baby. Sunchow will always have a cool place in their home and warm place in their hearts. Congratulations Sunchow you'll be loved and cared for forever!
Happy Adoption Day !!