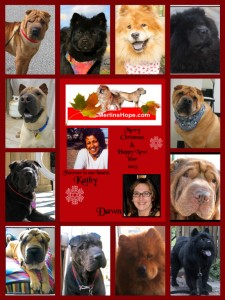 THANK YOU EVERYONE :
As the year draws to a close, I would like to take a moment to express my appreciation for an incredible 2015.
As you all know, Merlin's hope had a rough start with the loss of our founder, Kathy Mills. Everyone questioned the future of Merlin's Hope, including me. Thanks to the incredible outreach of love and support received from our volunteers, FaceBook followers, the community, family and friends, I found the strength and desire to forge ahead.
Our little rescue successfully placed a total of 12 dogs this year: seven Shar-Peis and five Chow Chows!
​The Pei: Bella (now Mango), DJ, Carlie, Leo, Lechee, Daisy, Big Mac aka Maxwell
The Chows: Ginger, DeeDee, Lucy, Sheena, Madison​
You can see their Happy ending stories at http://merlinshope.com/en/category/happy-endings/
We couldn't have accomplished this without help. A big thank-you to all our foster homes, benevolent volunteers, and adopters. Your unwavering commitment and dedication fuels my desire to continue saving these beloved breeds.
To our incredible followers and those who donate, we appreciate all that you give — your time, money, and support. Every effort counts and makes a big difference to our rescue dogs!
Many thanks to all who shared, donated, or purchased at our successful on-line auction. I want to also express appreciation to those who were involved with our 2nd major fundraising event, The Artisan Fair! Our gratitude goes out to all the artists and their incredible community. I look forward to working with you again next year!
Considering our initial challenge, 2015 has proved to be a remarkable year. We share the credit and accomplishment with all of you, including Kathy! I believe she's proudly watching over us and with each and every saved dog, her spirit lives on.
With your continued support, we look forward to sharing many more rescue stories and "happy endings" in 2016.
Wrapping up, we do ask for one more gift. Please enjoy the holidays and help out at your local animal shelter. Spread the joy by walking or playing with a shelter dog. Provide them with some attention and love. A donation of time is invaluable to these dogs. If that's not possible, a monetary gift may save a life!
Wishing you all a very Merry Christmas and a happy, healthy New Year! May there be many less in need of rescue in 2016.
Thank you again for a wonderful 2015! Best Wishes and Happy Holidays to you all!
​​
Dawn​ – Merlin's Hope​
Saving one dog will not change the world, but for that one dog the world will change fur-ever.